KROSSFYRE - Burning Torches MCD
€

7.00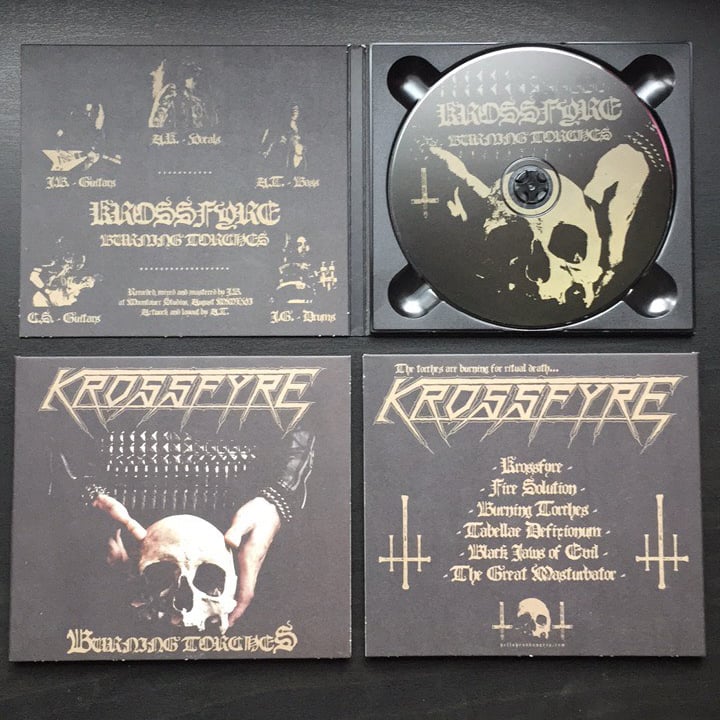 Digipack MCD.
Hells Headbangers announces the signing of Spain's Krossfyre. The first fruit of this union shall be the band's six-song debut EP, Burning Torches, whose cover art and tracklisting are further below.
Krossfyre formed only last year, but set to work on writing and recording Burning Torches, completing the six-song/20-minute EP last September at Moontower Studios. Although an otherwise brand-new name, Krossfyre include among their ranks members who do or have done time in such bands as Sheidim, Spain's Graveyard, Körgull the Exterminator, Insulters, Morbid Flesh, and Suspiral.
References to be made include classic Nifelheim and Vomitor, but also early Tribulation, later Desaster, Gospel of the Horns, Bestial Mockery, and Nocturnal Graves among others. But the sheer charisma and cantankerous esprit Krossfyre exude - not to mention infectious, gloriously METAL songwriting - puts the band squarely amongst those hallowed ranks. Early days still, to be sure, but on evidence of the forthcoming Burning Torches, the name Krossfyre will soon be upon the tongues of diehards worldwide soon enough.